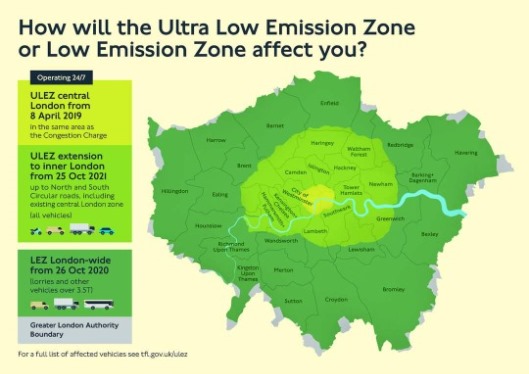 The Ultra Low Emission Zone (ULEZ) will be introduced to Central London this Spring and affects most vehicles including motorcycles and scooters.
In an effort to help improve air quality in London, Transport for London will launch the ULEZ from 8th April 2019, covering the same Central London area as the current Congestion Charge. Any non-compliant motorcycle or scooter venturing into this zone will be charged £12.50 per day, and failure to pay will land you a £160 fine. The ULEZ will expand into the inner London boroughs in October 2021.
To enter the ULEZ without facing a charge, your bike must meet Euro 3 emission standards. Generally speaking, bikes registered from July 2007 onwards will be compliant but there are exceptions.
You can check whether your bike meets the Euro 3 standards by following the link below to TfL's online checker.
If your bike falls short of these standards then it may be time to change it for something newer, and at Doble Motorcycles we have a wide range of new and used bikes that are ULEZ qualifying. Furthermore, despite the demand for non-compliant bikes falling rapidly, we'll still take yours in part-exchange! Why not find out what it's worth by getting in contact with us? You can call us FREE on 0800 975 2669, visit our showrooms or send us a message via the link below. You never know, you may be able to beat the ULEZ and get on a new bike for a lot less than you think!