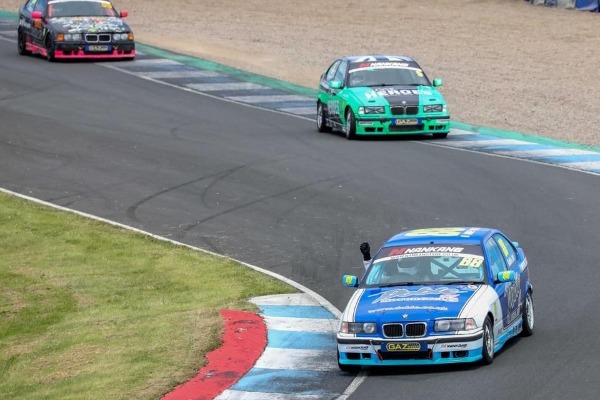 Doble Jr enjoyed great success on his first visit to Knockhill Circuit.
Rounds 3,4&5 of the 2021 Nankang Tyres BMW Compact Cup was battled out over the weekend for the first time at Knockhill Circuit in Fife, Scotland. Mikey Doble otherwise known as 'Doble Jr' in the compact cup paddock, and father Mike Doble set off with their two car team for the long drive to Scotland for what was set to be an epic weekends racing.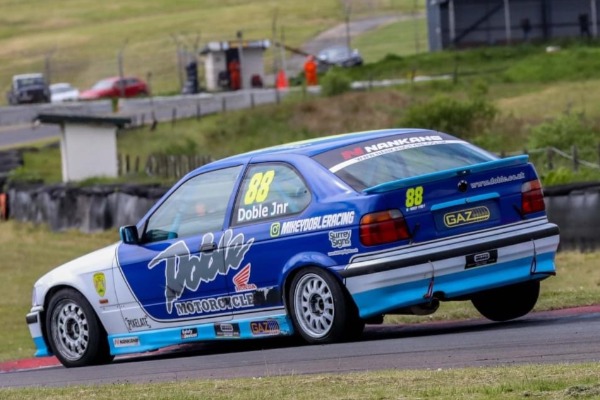 Mikey was quick to learn the bumps and undulations Knockhill has to offer.
With limited testing available, Mikey along with the majority of the field had to learn the track in two 30 minute practice sessions on the Friday afternoon. With Knockhill being a short lap it was not an impossible task. Learning how much kerb you can take and speed you can carry through the corners is key to fast lap around this track.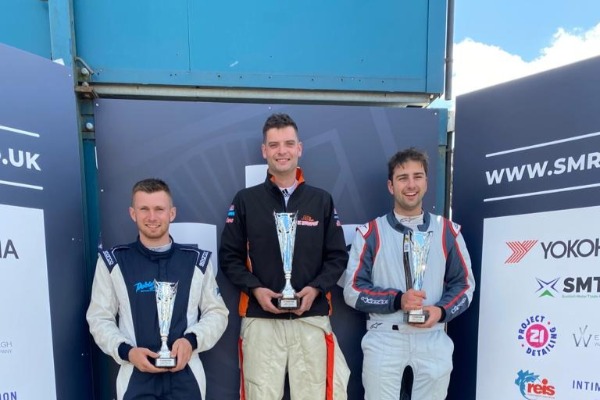 Mikey finishes on the podium in race 1 of the weekend.
Doble Jr (left) finished third on Saturday afternoon from fourth on the grid, only his second ever podium in the series. He scored his maiden podium with a second place finish in the closing round of the 2019 season at Donington Park. It was a close battle all race long for second, third and fourth. Mikey ran in fourth for the majority of the race pressuring his rivals in front until the #8 car of Paul Maguire made a mistake on the final lap. Doble needed no second invitation to pounce on his error and stuff his blue #88 car up the inside into Clerks corner.  Mike Doble Sr also bought his #65 car home to a respectable ninth place finish.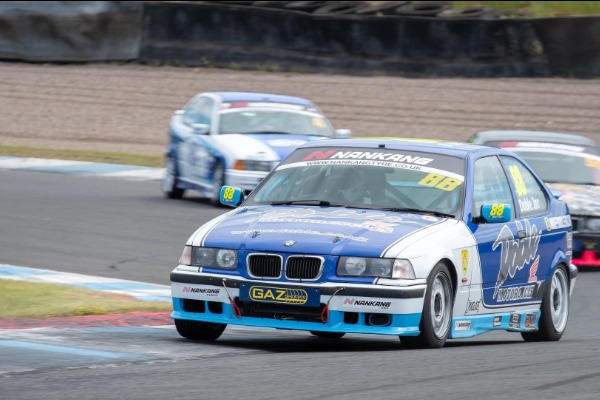 Doble Jr narrowly misses out on a second place finish in Sunday mornings race 2.
The grid positions for race 2 at decided by the finishing positions of race 1. Once again you could throw second through fourth under a blanket for the whole race. Local man Steven Dailly had the winning ingredients this weekend to gap the field and take two handy victories. Mikey had an amazing duel with the #96 car of Ben Huntley, Doble threw everything he had at him all race with some attempted moves however he had to eventually succumb to Huntleys awesome defensive driving and settle for another third place.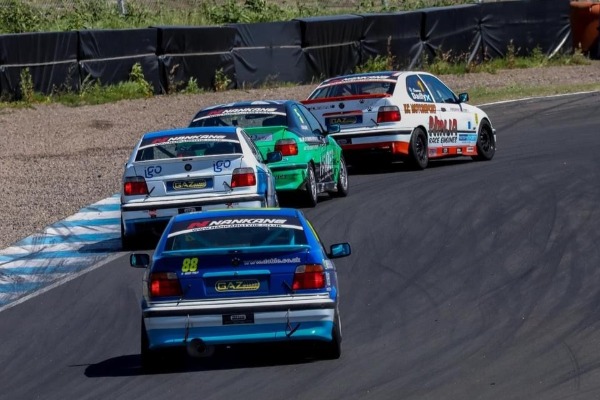 Race 3 stirred up some interesting action for the fans. 
23 drivers competed this weekend. The top 10 grid positions for race 3 are decided by a random grid draw from the top 10 finishing positions from race 2. The draw unfortunately did not go Mikey's way as he was drawn the number eight grid slot. With a mixed up top 10 this was a recipe for plenty of overtaking, wing mirrors flying and trading paint! After an eventful but exciting race Mikey finished P5. Mike Doble Sr scored a DNF in race 2 after a mechanical failure, therefore he started from last in race 3 but drove a very solid race through to 13th place!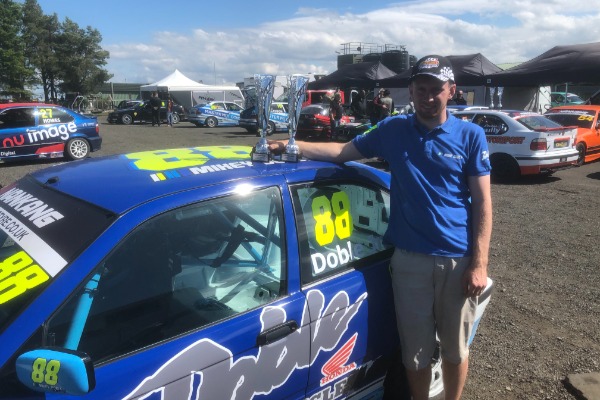 Two podiums leaves Mikey 5th in the points leaving Scotland. 
This was Mikey Doble Jr's most successful race weekend of his still fairly young car racing career. Much hard work and practice over the winter both on his home racing simulator and pre season testing is paying off at race weekends. He will not have much rest as you will know he is racing in this series along side the Ginetta GT5 Challenge, therefore it is ever important that his driving is on point! After some poor luck with some of his races in the month of May, he will hope that this weekend will kickstart his season into high gear and he will continue to win trophies in both the Ginettas and BMW's. His next outing is this coming weekend in his Ginetta GT5 on the Silverstone GP circuit for round 3 of the Ginetta GT5 Challenge. Stay tuned with Mikey's socials for live updates during race weekends!